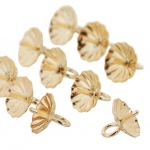 Peekays has a broad range of Australian made findings to offer. They are of exceptional quality because they have been manufactured to Australia's high standards.
If you are looking to create an authentic 100% Australian masterpiece, it is now made easier with Peekays.
Our entire collection of end caps, link locks, padlocks, earring sleepers and most of our studs, pendant settings, ring mounts, butterflies and kidney wires are sourced in Australia.