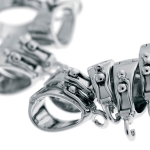 In this section, you can find our range of superior pearl findings to suit your pearl jewellery making requirements. Peekays are proud to introduce our prestigious collection, featuring pearl clasps, pearl drops, pearl cups & posts, pearl enhancers, and pearl earscrews. Using the most pristine materials, these prized pieces add elegance and style to carefully crafted jewelry parts, resulting in the perfect marriage of functionality and flair. Available in a wide range of sizes and metals, our high-grade pearl components can be used in both jewellery repair and new jewellery creation alike. Treat your customers to the touch of distinction that our pearl findings offer.
Pearl Clasps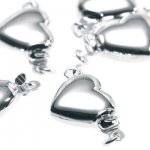 An object as precious as a pearl, deserves the very best enhancement. We at Peekays believe you'll find our range of pearl clasps perfect for the job. Our collection includes a large range of models, each one featuring the most exquisite craftsmanship from the smoothest and sleekest to the most "way out". Manufactured to the highest standard from second-to-none materials, these enticing jewellery parts boast flawlessness in form, clinically forged specifically for security and style. Browse through our collection today and present your pearls with perfection.
Pearl Cup & Posts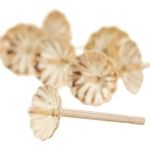 In our pursuit of perfection, we at Peekays are proud to present our finest line of pearl cups & posts. These elegant little units are offered in a selection of sizes, carats and alloys, and you can choose the style of cup that will best seat your pearl. We maintain a fully updated stock to support our customers needs. So if it's right for you, then you'll find it here at Peekays.
Pearl Drops
We have a fine selection of pearl drops for your shopping pleasure. These dainty yet vital jewellery pieces possess class and style in abundance, while remaining ultra functional and resilient as well. We have built a collection to satisfy every taste, featuring time-tested designs in various sizes, metals and carats, all manufactured with care and creativity. Have a look at what we've got for you, place your order individually or in bulk, and start creating your masterpriece.
Pearl Enhancers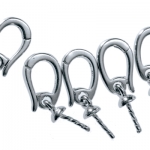 If you're looking to create, repair or re-model jewellery, then enhancers are likely to become a favourite item. Multifaceted and highly versatile, our carefully-selected line of quality pearl enhancers transform ordinary items into fabulous fashion statements, with sizes and styles to suit every occasion. Delicately forged from the most pristine materials, you can choose the metal and carat that's just right for your creations, and begin to enjoy the flexibility that our enhancers offer. Scroll through to shop and start creating today.