Jewellers always strive for the perfect finish to their work. That's why at Peekays, we offer only the highest quality findings that you can trust. We are pleased to present our finest line of necklace and bracelet findings, delicately formed from quality materials. Available in a range of styles including albert swivels, bails, beads, bolt rings, clasps, display chains, end caps, jump rings, split rings, linklocks, padlocks, safety chains, pins, and t-bar and toggle sets. Select the carat, alloy and size to suit your needs, and trust that you and your customers are in the very best of hands. At Peekays, we only believe in the best. The proof is in our products. Remember that our lines are constantly expanding, so we invite you to check back regularly and enjoy our service again.
Albert Swivels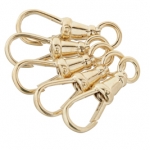 Convenient, secure, and simply stunning, albert swivel findings are ever-popular choices for jewellery makers. Always practical and beautifully designed, our albert swivels are available in a range of sizes, alloys and carats, enabling you to tailor your necklaces and bracelets with a flawless finish. We invite you to scroll down and have a browse at our range.
Bails
Ever-dependable and adaptable to a gamut of items and styles, pendant bails are time-tested favorites in the world of jewellery making. We at Peekays handpick only the very best around, all crafted from fine materials and designed to marry practicality with prestige. We have three stunning styles to choose from in our elegant line, including regular and heavy bails, as well as rabbit bails, enabling you to make the perfect choice to top off your designs. All our bails are available in various sizes, metals and carats for your shopping pleasure. Enjoy what we have to offer, and rest assured your customers will too.
Beads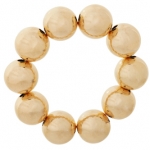 Peekays are pleased to present our range of beads in a wide variety of sizes, alloys and carats. These neat and tasteful items can be used as spacers on any beading projects, faithfully providing reliability with that little splash of class. We pride ourselves in offering broad diversity while always maintaining top quality and style, so peruse our exclusive catalogue today and be on your way to excellence.
Bolt Rings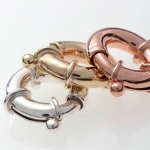 Peekays are delighted to present our range of high quality bolt ring findings. Bolt rings are perfect for a broad range of jewellery projects, most often used to fasten chains, necklaces and bracelets with security and elegance. Highly popular items, all our bolt rings are elegantly made with fine detail and strength, making them both easy-on-the-eye and ultra secure. We supply classic, heavy and deluxe bolt rings in yellow gold, white gold, rose gold and sterling silver. Choose the size and carat you prefer, and start creating without further ado.
Clasps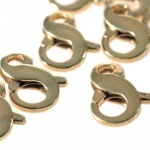 Clasps can be used as an ornate feature to add to a bracelet or necklace, or as the secure component that will fasten the chain together. They are an essential part of jewellery making that offer practicality and poise. Our range of clasps are carefully selected and superlative in quality, featuring parrot clasps, lobster clasps, trigger clasps, bayonet clasps and more. You're sure to find the perfect clasp to merge with your artistry, and a choice of sizes and carats are available so that you can find that ideal finish. Browse today and start enjoying what Peekays has to offer.
Display Chains
Display Chains are a great way to exhibit your pendant creations. While remaining hard-wearing and versatile, these charming items are packed with dignity and style, enabling you to showcase your masterworks in all their glory. They come in packets of 12 and are offered in Rose, Gold and Silver plated colours. Bear in mind that our catalogue is ever-expanding, so check regularly for our latest lines.
End Caps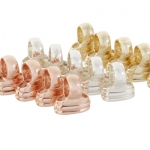 End caps are a staple of any jewellery-maker's répertoire. They provide a fast, easy finish to jewellery of all stylistic trends, while infusing a strong sense of character and charm. Peekays offers four kinds of end caps to complete your current projects, including the final end cap, round final end cap, tube end cap, and chain end cap (used for bolt-rings). Each is apt for its own style of jewellery and all are available in an abundance of sizes, alloys and carats. They are the perfect way to close off and give a stylish finish to your artistic creations.
Jump Rings, Split Rings & Link Locks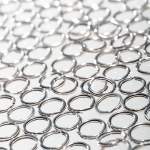 Jump rings, split rings and linklocks are popular items for making necklaces, bracelets or even charms. Peekays Findings have an extensive collection to choose from. We offer only the crème de la crème of jewellery products, and these particular high-end findings can be found in our line in different colours and alloys, including yellow gold, white gold and sterling silver. You can also pick from a convenient choice of sizes, enabling you to tailor your projects with flawless precision. Jump rings, split rings and linklocks are routinely used in beading work, but can feature in a myriad of other projects too – start shopping and let your creativity run wild!
Padlocks
We have in stock some of the most beautifully crafted jewellery padlocks, commonly used to enhance a bracelet, necklace or chain, yet adroit enough to be employed in a number of jewellery-making roles. Our collection features plain padlocks that have been sculpted with the sleekest, smoothest finishes on the market, as well as puffed padlocks detailed with the most intricate of decorative features. Choose the padlocks that will bring your artwork together, all available in yellow gold, rose gold or sterling silver.
Safety Chains & Pins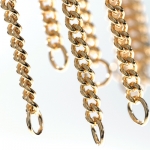 At Peekays we market safety chains and pins of only the highest calibre. These items are primarily used to secure bracelets and brooches. We offer four different sizes of this product in yellow and white gold, sterling silver and silver gold plate. Procure the added security of safety chains and pins, and enjoy the peace of mind and creative flair that comes with it.
T-Bar & Toggle Set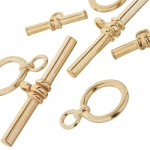 The T-Bar and toggle set can be used to close the chain of a bracelet or necklace. They are a favourite choice for jewellers looking for that little hint of novelty, replacing the traditional clasp to enhance the piece and bestow a unique look and feel. At Peekays, we supply a gorgeous t-bar and toggle set that can help you bring your necklace or bracelet to fruition with all the comfort and style that your artwork deserves. Available in yellow or rose gold, or in sterling silver, have a browse of our stock and complete your projects with taste.